America's First Commercial Insect Repellent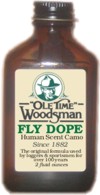 Order Now
$9.99 a Bottle or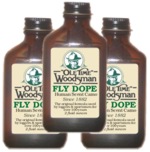 SAVE $12 when you buy a 6 pack and Save$5 on a 3 (3Pack for $24.99 & 6 Pack for $47.99
FREE SHIPPING

FREE Shipping

SAVE $10 over individual prices - Great Combo Value Deal - 3 Bottles of Ole Time Woodsman Fly Dope, Plus a 12-pack of DeerFly Strips
Only $34.99 -Free Shipping, Too!

While fishing in Maine in 1910, Obie Sherer and his his fishing buddy, Dr. Donald Adams decided they needed to come up with something to make spring fishing in the Maine wilderness a little more enjoyable. Working from an old 1882 recipe, they mixed up a batch of Fly Dope. On their next trip to Maine, a logging crew spotted Obie fishing peacefully. Obie told the foreman all about his Fly Dope and agreed to make a batch for the company. When the first batch was used up, the woods crews clamored for more. As a result, Obie decided to go into business and named his new product "Ole Time Woodsman" in honor of his first customers.
Since then, generations of outdoors folk have continued to rely on
Ole Time Woodsman to make their wilderness experience more comfortable, peaceful and memorable.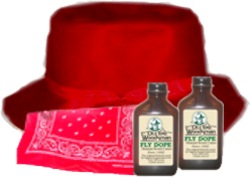 Ole Time Woodsman
Combo Special
1 Crusher Hat, 2 Ole Woodsman, 1 Bandana...Your choice of size and color combination
Only $37.99 SAVE $10


FREE SHIPPING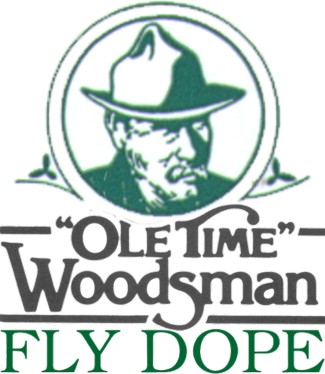 America's First Commercial Insect Repellent
Established 1882
"I am writing a request for Old Woodsman….my husband is out and can't find it anywhere! He won't use any other product because "they don't smell like old woodsman" I swear he would wear it for after shave if allowed!"
L. McLaughlin, Searsmont, Maine
Been wanting to get some Woodmens Fly Dope since I first used it 30 years ago. Is it possible to order a bottle & get it sent out right away---heading for Canada in 10 days.
C..Heibel

I first used Ole Time Woodsman in 1970, and then went 31 years without it. But when I found some at a fly shop in Greenville, Maine, and I gave it a whiff, and it brought back all kinds of memories from those days, I knew it was the real deal. Now I keep a supply handy at all times, and have learned up the next generation to do the same. It's not just bug dope, it's an institution.
Wil Merck
Essex Timber Company, LLC
Ipswich, Mass.
Hi Guys;
I gotta talk to my husband into letting me order from you folks. Years ago when my folks took the four of us heathens into the Maine woods to do some camping (1960 or was it 1959) there was three ways to go, cursing the bug, a product called 6/12 or old time woodsman's fly dope. Personally, I took up with the old time woodsman's! My sister thought I was a might "tetched," but a few years later, I am still a camper, and a guy that wears old-time woodsman is in trouble...I will follow him anywhere...did I mention I've been married for 28 years? Oh well, on this last little adventure my husband (a Springfield Massachusetts City boy) I said what I would do for a smell of that wonderful elixir of bugs and rut, and he said it was long gone! I should have put something good up to prove him wrong! I am delighted that you are still viable, and crusher hats as well...so my youth was not a waste after all...did I mention we have two kids, or they came along the way! So, passion of my girlhood, it is glad to see you are alive and well...did I mention the kids have moved out and are onto lives of there own? Well, I might just order a few bottles and see what happens...in case I am not here, I will be enjoying the smell of my childhood, Maine woods, black flies, misquotes, and yes, Old time woodsman's fly dope...
Donna, a Monson Massachusetts (now Princeton Massachusetts) country girl...only at heart!
Traditional
Ole Time Woodsman
Felt Wool
Crusher Hat


This is the original Maine Hunting Hat. Great in all weather and "crushes" up to fit in your pocket. Still made in theUSA!
Available in Medium, Large or XL in Hunter Green, Traditional Red, Blaze Orange and NEW Midnight Black
$24.99
More Crusher Hat Info
Buy One Now

Deer Flies, Horse Flies & Greenheads Bugging You?
We have the solution!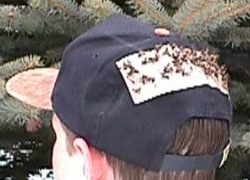 DeerFly, Horse Fly & Greenhead Strips
Unique, effective way to STOP nasty deerflies, horseflies, greenheads & other biting flies.
They land, they stick, they're history!
Order Some

Ole Time Woodsman 165 Hall Hill Rd Brooks, ME 04921 (207) 454-9995
Email: Sales@ LexingtonOutdoors.com

To Become an Ole Time Woodsman Dealer
Email Us
Or Go to Online Wholesale Order Page